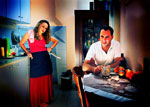 Today's society finds mobility of family life a blessing to the intellect. It has obviously helped to broaden people's minds. But what does the mobile society do about a person's emotional life?
Many people are on the move together — father gets a job away from home and takes his family over to his place of work. But for a vast majority of couples, mobility means leaving wife and children behind as the husband tries to cope with life single-handed. Airline pilots, sailors, salesmen, journalists, news photographers, soldiers know what it is to be separated from their families and if medals were awarded them for good service, they know that their wives deserve them too.
Departures and arrivals are always exciting but the lonely waiting in between cap put a strain on marriage. It can be agony for the wife who not only has to deal with loneliness but worry about her husband and discharge parental duties alone. So what does a woman do to occupy herself while her husband is away? How does she manage to continue feeling as intensely about him as she did before?
Short separation is seldom a problem and can even be a refreshing experience. The first time the husband is away on business for a few days, his wife and children realize the extent of the gap he leaves and feel how much they miss him. Some couples find being separated, even for a short time, intolerable. Newly married couples feel it, unless separation starts early and become a constant feature in the marriage. If a wife is too dependent emotionally on her husband, separation can lead to such a state of insecurity for the dependent partner that either her nerves or the marriage breaks down.
For the survival of any marriage that involves long separation, it becomes essential to:
1) Sort out the right balance of dependence and independence. When they're together, each partner should be dependent on the other to keep the marriage from turning into an emotional vacuum. But when they're apart they must be capable of an independent life. It may take years of experience to get the right balance but patience helps.
2) If the wife is merely keeping the home fires burning, her personality is in danger of disentegrating, and she may center her life around her children while her husband is away. But too much of it has its dangers for the wife and the children.
3) The safest course is for the woman to find some interest, work, or leisure, that will absorb her mind sufficiently for her to think of it as an achievement of her own. For some wives, a full-time career may be necessary.
4) Communication is of vital importance. Letters and phone calls provide continuing contact and prevent a couple from drifting apart during a lengthy separation. They must keep in touch with each other's thoughts and activities to prevent resentment from over taking place.
5) The question of fidelity during long absences may be solved by a tactful acceptance that the partner's own conscience can be trusted. Maintaining a not too rigid concern about the other's activities based on the assumption that he is trying to cope with the difficulties of a lonely life, also helps.
6) Talking to other wives of absentee husbands will help ease the loneliness and keep the wife's personality as alive as her husband's when she welcomes him home.
Separation is a severe test of marriage but if the couple is able, to cope with it, the rewards are high. Although good-byes can be painful, hellos can make a couple feel like newlyweds again.