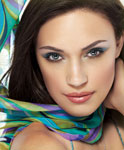 Celebrities, as our favorite beauty icons, updated their makeup repertoire to the latest trends and show us their best look with the help of the most stylish shades and textures from the market. If their look inspires us very much, then who inspired them? The runway of course, but not only them; this new season, we will also be prepared for the wave of beauty as well as the visionary look of the greatest makeup artists.
Let's check out how these three celebrity beauties can upgrade our look to the newest trends and show off our refined and unique style sense. Their selection of the most flattering look will be our guidance to boost our confidence and brings out our unique sex-appeal. So let's take a chance to steal the beauty tricks from the red carpet and copycat all the A-list makeup designs promoted by some of the beauty icons of the award moment.
Selena Gomez
As one of the most beloved teen stars, this young actress and singer also becomes the best example of how young girls turn into real ladies by being constantly in the spotlight. It seems like she managed to mesmerize the world with her natural beauty and charisma. By using only a low key makeup made of gray eye shadow and nude lips, Selena Gomez look simply irresistible at the 2011 People's Choice Awards. Before trying to copycat this look, make sure you try your hand at a similar design, and test your application skills as well as talent to choose the best shades for you.
Taylor Swift
The way she chose orange to bring out the most of her youthful beauty makes us think that Taylor Swift must always look at the bright side of life. So, orange lips is highly recommended to try, as it is believed to be the current, as well as the up-and-coming beauty trends of the season. To create a more natural looking makeup, choose a lighter shade. But if you wish to stand out from the crowd, choose the dark and more intensive tones, it will make your appearance even more prominent. For the eyes, choose a sensuous cat eyes makeup. We know how Taylor Swift turns her glimpse into real asset with this style, don't we?
Emma Roberts
If you are a great fan of classy makeup like Emma Roberts, you will go for the golden eye makeup. Make sure you have different shades of gold in your eye shadow palette, do some experiment with their application until you have the desired impression. For lip color, opt for nude lips especially if you're eager to leave the glimpse speak for yourself.