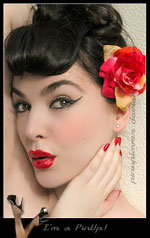 The pin-up girl makeup look has been adopted by celebrities in order to grab attentions, especially when they need to stand out among all the glamorous carpet looks. This look will give visual transformation as well as a sultry feminine appearance.
Do you wish to learn how to create a pin-up girl make up for your own? Here is how.
Cleanse and exfoliate your skin. Make sure it is free from dirt, sebum, and dead skin cells. You will definitely look and feel great about your skin after this treatment. Don't forget to apply moisturizing cream, it will keep your skin remains soft and moisturized.

Apply makeup primer on your face and eyelids. Primer will give your makeup a huge difference as well as making it last longer. If you're using makeup on the daily basis, you might want to invest in a good primer product.
Apply foundation, and give your skin a matte effect by setting it with powder. Applying foundation and powder will give you porcelain looking skin which is a must in every pin-up makeup. Make sure your products match your skin type, and suit your quality demands and budget.
Bring the eyes out by applying eyeshadow and eyeliner. Use vanilla colored eyeshadow all over your upper lid, then add more depth to the eyes by applying a warm taupe eyeshadow into the crease. Use liquid black eyeliner to give definition to the eyes and create a soft winged line at the outer corner of each eye.
As the finishing touch to your eyelashes, give them two coats of black colored mascara. Don't forget to curl them before applying mascara, or apply false eyelashes when needed.
Define your eyebrows with some black/brown colored eyeshadow by using an angled brush, or use an eyeliner pencil to reshape them.
Next, make your cheeks stand out subtly by applying blush to your cheekbones. And at last, coat your lips with your favorite red/pink lip color. Make sure the color you choose will draw attention to your lips.