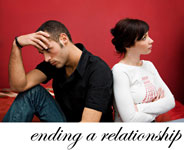 Another way to evaluate whether family concerns about your marriage decision are valid or not is to know the seven danger signals of faulty mate selection. Here are the 7 warning signs that you are choosing the wrong mate:
1. The decision to get married is made too quickly. Family members are correct in their concern about the relationship if a couple have known each other for only a few months before becoming engaged.
2. The decision is made at too young an age. One clinical psychologist notes that the divorce rate among couples under 20 is incredibly high and the divorce rate for 21- and 22-year-olds is twice as high as it is for 24- and 25year-olds.
3. One or both persons are too eager to be married. Beware if one person is overzealous for marriage, especially if that person is experiencing feelings of great loneliness and rejection.
4. One or both persons may be choosing a mate to please someone else. "I immediately begin to squirm when I realize one member of a couple has chosen his or her partner in order to please a parent or some other important person," notes an expert. "I've watched this strategy backfire so many times … It simply won't work!"
5. The experience base is too narrow. This applies to couples who says they are "so much in love that we have never had an argument." Usually a statement like that means the couple has not discussed such important marital concerns as finances, career goals, children, etc.
6. The couple has unrealistic expectations. Some couples get caught up in a feeling of "endless love." These couples believe that love, by itself, will solve all their problems, provide endless comfort and continuous pleasure and alleviate all feelings of loneliness and emotional pain.
7. One or both persons may have unresolved personal problems. Obviously, if a partner has a drinking or drug abuse problem, marriage should be delayed. Less obvious, however, are personality traits that partners often believe will be corrected after marriage. Be careful about proceeding with wedding plans if your partner has questionable traits such as unreasonable jealousy, temper tantrums, dishonesty, irresponsibility, or stubbornness.