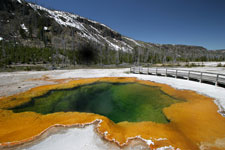 Yellowstone is famous throughout the world for a number of reasons. Every year, it has enticed millions of visitors to come and explore. Yellowstone is, quite simply, one of the most spectacular spots on this planet, offering a variety of sights and adventure to match different tastes and interests. The sheer size and beauty of the park can be overpowering, so use these tips to ensure that you enjoy every minute of your Yellowstone adventure:
Plan your adventure
Trying to pack in as many activities as you can in just 24 hours is impractical. The Yellowstone area is over 2 million acres of land. About 80 percent of the park is also covered by forests interspersed by a few open meadows. If you want to enjoy your Yellowstone adventure thoroughly, plan your trip carefully. If possible, come for a 3-day visit at the very least.
If you prefer, you could book your Yellowstone adventure in advance. There are numerous vacation packages to choose from, which allow you to enjoy all the popular activities in a guided setting. Accommodation and food are included, and most of the time, even the equipment required for the activities.
If you go on your own, make sure you find out everything you need to know about what the park offers so you can plan your adventure accordingly.
Exploring Yellowstone
There are several ways you can take in the beauty of Yellowstone – hiking, driving, boating and horseback riding. All these activities are available for the enjoyment of all the park's visitors. For horseback riding and hiking alone, there are about 1,200 miles of scenic trails available.
People who prefer to go boating, fishing, white water rafting and participating in other water activities have at least three lakes to choose from – Yellowstone, Lewis and Shoshone. Another great location is Firehole river, a favorite for fly-fishers who want to take in the action by catching trout. The river is active from spring and even until late fall, boasting of trophy-sized fish for the skilled and the patient.
In terms of spectacular visual treats, there's plenty to admire in Yellowstone. With an average elevation of about 7,500 feet, the park offers some of the most stunning mountain views. Among the most noteworthy are the Gallatin Range, Mt. Washburn and the Absaroka Range, where Eagle Peak is.
For people who prefer to stay off the water, even the rivers and lakes present endless adventure potential. The 692-mile long Yellowstone River, for example, is already an excellent photographic subject, flowing right into Yellowstone Lake and on through the Yellowstone Grand Canyon, plunging into the Upper and Lower Falls.
The Canyon itself is also a well sought-after spot. Rising to a maximum height of about 1,200 feet, the canyon offers a breathtaking display of volcanic rock that ranges from red to brown to orange and yellow. Consider using Artist Point and Inspiration Point for dramatic views of both the canyon and the falls.
Yellowstone also offers endless possibilities for wildlife sightings. Majority of the wilderness within the park is unspoiled, offering curious visitors a glimpse at some of the world's most precious animals and vegetation.
Yellowstone's geysers are also a very popular spot. Thanks to the park's location – a 'hotspot' – there are areas within that show a unique turbulent beauty. The geysers are a frequent reminder that Yellowstone sits on a volcanic plateau, something that many tourists find fascinating. The best-loved of these geysers is Old Faithful, still spewing hot water and steam at an average interval of 75 minutes after all these years. Other geysers that are popular with tourists are the Giant, the Giantess, Riverside Geyser, Sapphire Geyser and the Steamboat Geyser.