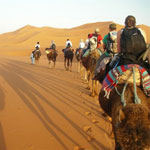 For some people, taking city tours, visiting breweries, and lying out on the beach just isn't enough. These tourists want a trip filled with adventure; one that's off the beaten path. Adventure travel is a specialized type of travel that isn't filled with the typical tour buses and bed-and-breakfasts. Adventure travel engulfs a more exploratory sense of the word "travel". Adventure travelers would rather hike up a mountain, trek through a jungle, or ride white water rapids than sit in an air conditioned bus and be chauffeured from place to place.
However, although adventure travelers don't partake in all-inclusive resort stays, adventure travel can still be quite expensive. That's because the destinations adventure travelers travel to (and the activities they do) often require special guides, groups, and sometimes equipment.
If you want a change of scenery and want to experience adventure travel, here are some tips on how to make it more affordable. Follow these tips and save a few bucks for when you're in-country.
Adventure Travel Tips and Deals
Tip #1: Find Affordable Airfare to Your Adventure Travel Destination
Regardless of what you do when you arrive at your destination, getting there can be costly. Airfare will always be a factor in your travel budget, regardless of if you're traveling to go on a safari, hike the Himalayas, or lay on a beach. Flying is an expensive way to travel; however, thanks to the Internet, it doesn't have to be. The Internet is filled with deals on airfare to destinations all over the world. If you're planning an adventure travel trip, search the web for airfare and budget travel deals. The web is jam packed with travel web sites offering amazing rates on airfare to many travel destinations. So if you're planning an adventure travel trip, find airfare deals online.
Tip #2: Book Your Adventure Travel Adventures When You Get There
Since adventure travel takes you off the beaten path, it's fairly simple to find great deals on rooms, materials, and tours in the outskirts of town. However, if you try to book a room or find a tour guide before you leave, you'll probably have to deal with a middleman to book your accommodations; and anytime you deal with a middleman, the more it's going to cost you. The middleman will most likely charge you some sort of service or finders fee. By waiting until you are in-country to book your accommodations and materials, you'll be able to cut out the middleman and save some money on your adventure travel.
However, before you jump on the plane, it's a good idea to check out adventure travel blogs and websites online. They'll help you get in touch with other adventure travelers who can give you advice on who you should contact when in-country to make the necessary arrangements. You don't want to journey to a foreign land completely blind.

Tip #3: Find an Adventure Travel Group to Travel With
Believe it or not, there are travel groups out there that specialize in adventure travel. These groups are experienced in adventure travel and have the right connections to get you deals on your trip. Adventure travel groups normally travel as a group and benefit from group rates. They also have connections with people in other countries to plan the best and most affordable activities. Planning an adventure travel trip on your own can be complicated and very costly. By finding an adventure travel group and going with them on their adventures, you'll be able to cut down the cost of your trip and also meet some new people along the way.

Top Adventure Travel Destinations
Africa
Africa is referred to as the cradle of human life as we know it, being the oldest inhabited territory in the world. Travel through Africa will reveal the modern dilemma of a region pushing forward with globalization and technology at the same time that many cultures and tribes are striving to protect their traditional way of life. In addition to human life, Africa supports the world's most spectacular collection of rare species and biodiversity. Encountering Africa's wilderness firsthand is not only a radically unique experience, but also a once-in-a-lifetime privilege that future generations may not have the opportunity to share. For more information on adventure travel to Africa, visit http://www.cfares.com/africa.

Thailand
Thailand offers the diversity of a society running in parallel: booming city life and leisurely beach escapes, thickly canopied jungles and white sand islands, indulgent cuisine, clubs and cocktails and the sanctuary of Buddhist lifestyle. Thailand has come of age as a traveler's dream destination, an affordable gateway to paradise with adventure at your fingertips. For more information on adventure travel to Thailand, visit http://www.cfares.com/thailand.