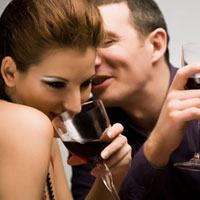 Well, you may already know, going on the first date can be extremely scary and intimidating. Our minds are overcome with fear and insecurities and then we cave into those emotions.
We're fearful of being rejected, we're scared of failure, we're nervous about saying an incorrect thing on the wrong time and we're anxious of what our date will think about us.
Each one of these worries are totally human and completely understandable  however they produce devastating results: they paralyze us and greatly inhibit our capability to behave normally and confidently like we do with our family and with our closest friends.
Our personal fears bring us to the most uncomfortable situation where we presume an awful insufficient self confidence, all consumed with stress, angry and frustrated. The end result is that we're doomed to end up in the most annoying, embarrassing and also humiliating situation, which we all believe as that "awkward silence".
Contrary to popular belief, the majority of us will have the capability to handle on a fluid, easy-going and enjoyable conversation with others we've known for years so, using the right approach, it shouldn't be different with the woman we're on a first date with.
And the right approach is… conversation starters!
Preparing a listing of topics and questions which you can use on the first date can do wonders to your relationship abilities.
When you've got an arsenal of conversation starters  it's quite simple to hold the conversation going.
You always have something to state, you build a lively conversation like there's absolutely nothing to it, you're not nervous, "stuck" or "blocked" and you will prevent the awkward silence disaster pretty easily.
Allow me to share 10 conversation starters that can be used on your own next first date:
·Has any book has a major have an effect on you?
·What was the top good deal you ever found?
·What's probably the most irritating thing someone could do on a first date?
·What's probably the most unusual thing you know the way to try and do?
·Is there anything you can't say "no" to?
·What food could they not pay you enough to eat?
·Who are your cult heroes? Why?
·What was the craziest thing you ever did when you were a kid?
·If you might have any job in the world, what would it be?
·What would be the title of your biography?
There are various conversation starters that can be right for you fantastically. They can serve as a fantastic base for a flowing, lively, enjoyable conversation that can let your date learn about the "real you" when you leave all of the pressure, anxiety and fear behind you.
Don't leave the house to go out on a first date empty-handed. Take a seat, prepare yourself some good conversation starters, memorize and exercise them and your chances to get a wonderful date will increase drastically